Dean Stjepan Ćosić's address at the promotion of graduates on 11th September 2021 at Borongaj university campus, in the Zagreb Hall
Dear graduates, parents and other distinguished guests,
Let the ceremonial promotion of master students who graduated from the Faculty of Croatian Studies, University of Zagreb begin!
I greet my esteemed fellow professors: vice dean for education and students Prof. Dario Vučenović, vice dean for career development and lifelong learning Prof. Lovorka Brajković, head of the Department of Philosophy and Culturology Prof. Mislav Kukoč, head of the Department of Croatology Prof. Mario Grčević, head of the Department of History Prof. Mirjana Matijević Sokol, head of the Department of Sociology Prof. Stipan Tadić, head of the Department of Communication Science Prof. Danijel Labaš and the head of the Department of Psychology Prof. Jelena Maričić.
Dear graduates, esteemed colleagues, as the old locution says, I will not prolong, but I will try to say something.
With today's solemnity and graduation ceremony, you have completed an important part of your formal education at the university. Some of you will continue your further formal education through postgraduate studies of various specializations. I would highlight the content of the informal part, which will continue, I hope, throughout life. Namely, the content of our studies and our scientific disciplines is much more important than the form. I would like and believe that you have chosen these studies at our Faculty not as your profession and job, but as your life vocation. Which is the vocation of an intellectual.
In that sense, this is just the beginning. Therefore, this is not the end of your education, but only one part of it, and the beginning of real study, lifelong learning. I am not ashamed to say that. I am still studying. I will probably study until death. I want to encourage you at that beginning. I want to believe that during your years of study you have become convinced of the old truth, how knowledge changes us, that education transforms our lives. In that sense, the Faculty of Croatian Studies at the University of Zagreb will remain Alma Mater to you, your nourishing mother.
Despite the uncertain future in the infamous STEM environment, in which technological pragma rises to the level of a religious cult, you have decided to dedicate yourself to social and humanistic disciplines, sciences that have their basis in the man and society, not in technology. This fact has a special weight and imposes on you a great responsibility, the responsibility of true intellectuals. Namely, the sciences we deal with and the values ​​we promote based on these sciences do not have material and financial correlations. Their purpose is in themselves. In other words, the knowledge we acquire and the ideas we create make us the people we are, human beings, members of a society with its own history, heritage and specific values, people with their own identity. We are obliged to pass this on to future generations.
The knowledge you have acquired during your studies will be of little use to you if you do not maintain and develop the backbone of scientific awareness in yourself. This is, of course, critical thinking and well-founded argumentation. Critical thinking in spite of everything and especially towards self-proclaimed authorities. I would like you to keep these very words in mind in your future professional and private life. With that in mind, we will continue our celebration today.
I extend my congratulations to the graduates, to their parents and families and I wish you all the best!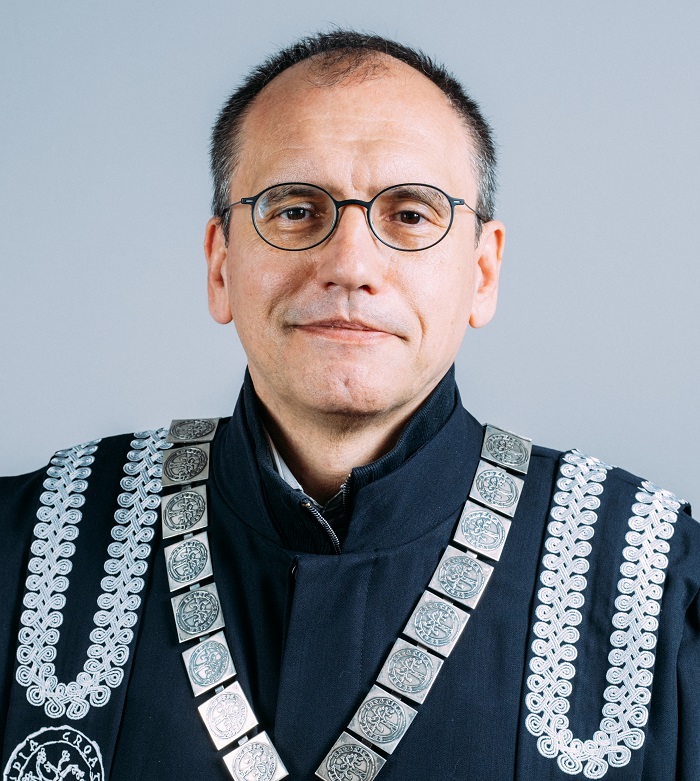 News list
Quick links
Studies
Undergraduate
Postgraduate
Informations
Hrvatski studiji Sveučilišta u Zagrebu pokrenuti su i ustrojeni 16. studenoga 1992., isprva samo kao dvosemestralni Sveučilišni komparativni studij hrvatske filozofije i društva. Taj je program potom preoblikovan u program redovitog četverogodišnjeg studija.
Address:
Borongajska cesta 83d, Zagreb (
map
)