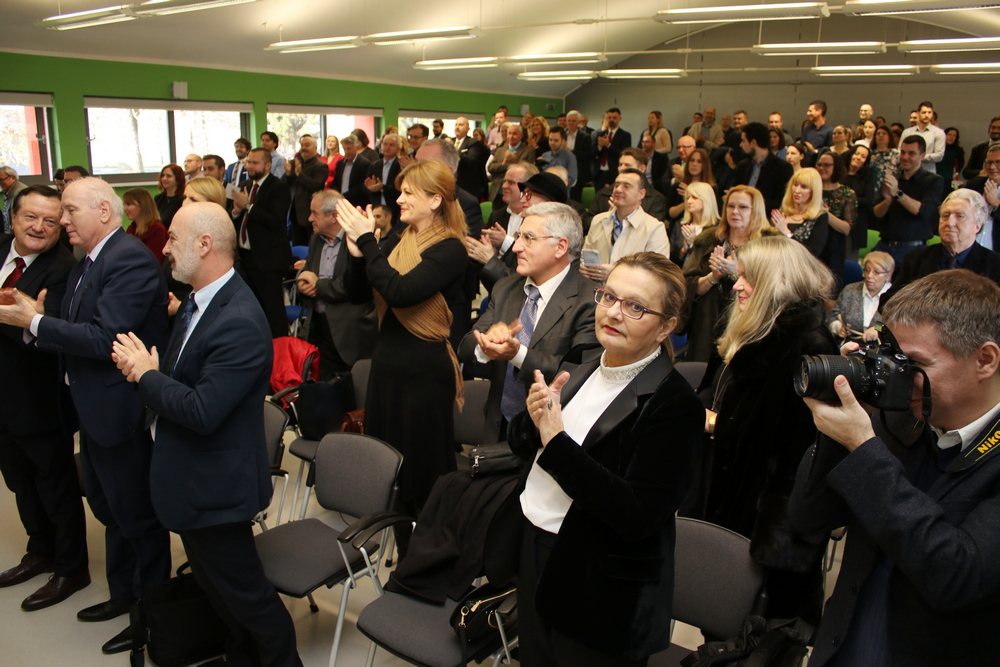 On Friday, December 20, 2019, the first Christmas reception was held at the Faculty of Croatian Studies, University of Zagreb. The academic part took place in the Zagreb Hall, and food, drink and commemorative gifts were served in the reading room and in the library lobby. It was also the first public ceremony since the Faculty was proclaimed.
The host of the reception was Dean Pavo Barišić with new Vice-deans for teaching and students Dario Vučenović, for science Ivo Džinić and for career development and continuing education Lovorka Brajković. The event brought together numerous staff, external associates, students and friends of the Faculty of Croatian Studies. Among the guests were University of Zagreb Rector Damir Boras, Assistant Minister of Science and Education Ivana Franić, Vice-Rectors and many other guests.
The programme was led by Davor Trbušić, and three music points (God Save Croatia, Everyone on Earth and O Holy Night) were performed by the RiM group - Ružica, Maja and Slavko Nedić.
Read more here: Održan prvi Božićni domjenak Fakulteta
News list
Quick links
Studies
Undergraduate
Postgraduate
Informations
Hrvatski studiji Sveučilišta u Zagrebu pokrenuti su i ustrojeni 16. studenoga 1992., isprva samo kao dvosemestralni Sveučilišni komparativni studij hrvatske filozofije i društva. Taj je program potom preoblikovan u program redovitog četverogodišnjeg studija.
Address:
Borongajska cesta 83d, Zagreb (
map
)